Estimated Time Remaining:
2:1
HD Download $7.99
+ Stream in HD for Life
Stream for Life $11.99
Stream only
HD Rental $7.99
Stream in HD for 2 Days
Tale of Two Cock Destroyers: Part One, A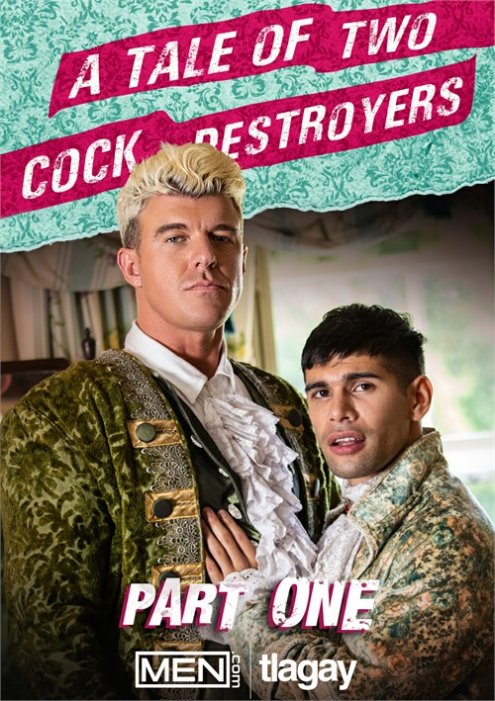 Our exclusive! A co-production between MEN.com and TLAgay that you'll only be able to see here! In A Tale of Two Cock Destroyers: Part One, Johnny Rapid is caught soliciting by local constable JJ Knight and taken to meet Cock Destroyer Rebecca. Johnny has no idea he's about to become a pawn in her game to get back at fellow Cock Destroyer Madame Sophie by infiltrating her brothel. After a failed garden party, Sophie prepares her whores for their shift. Sophie's pet, Joey Mills, tries to cozy up to newbie Ty Mitchell, but Ty is whisked away by JJ, whose job as constable means he gets to test out all of Sophie's new employees. Ty shows what he can do, first massaging and worshiping the constable's sore feet, then sucking and deep-throating his massive cock. JJ tastes the tanned newcomer's ass and loosens his tight hole with his fingers before fucking him doggy-style. Ty enjoys the attention so much that he cums hard before taking the constable's huge load on his face and in his mouth. But while the constable is disporting with Sophie's newest boytoy, Rebecca returns and is ready to make her move - complete revenge.
Categories:
Cosplay
,
Deep Throat
,
Facials
,
Feature
,
Historical / Period Piece
,
Horse Hung
,
Hustlers
,
Parody
,
Revenge
,
Rimming
,
Swallowing
,
Tattoos
,
VOD Exclusive
More Like Tale of Two Cock Destroyers: Part One, A